The board portal features offer all support board members of big and small global companies need to better schedule and run in-person and remote board meetings. The board portal solution serves as a suite of powerful business tools for meeting management and good governance. This new technology allows to streamline important business operations and improve company's internal workflows
Board management software provides a secure platform with a wide range of tools and features, which board of directors, administrators, and company secretaries can use to schedule board meetings and provide secure data access to important board materials. All users, including directors and executives, can quickly learn how to use the key features of the software through training materials.
Board portal providers offer a bunch of different features for file and meeting management, which may vary from one provider to another. The wide variety of features also presents certain issues, as businesses should carefully select the right tools to meet specific business needs and requirements.
The following list has all key features groups that are necessary for the majority of board portal users.
The most important meeting management features
Board portal space allows board members and secretaries to manage the full board meeting life cycle that includes preparation, execution, and after-meeting management. And board portal solutions offer the right tools that support all these processes. These board portal features include the following ones.
Meetings center
Meeting scheduling can be automated through using a board portal solution to save time and money. You may also use the board software to remove distractions so that all board members can focus on strategic planning and good governance.
Corporate secretaries can use this tool to send out meeting invitations, notifications, and reminders right away. All board and committee meetings can be set up in a matter of minutes and synced with Google Calendar in just a few clicks.
The meeting calendar scheduler makes scheduling hassle-free and simple, allowing you to rapidly create polls to check directors' availability, suggest meeting times, and track attendance responses.
Board portals also allow you to share agendas for forthcoming meetings as well as archive meeting data so that all participants may retrieve the information they need at any time.
Agenda builder
You can easily create and share a meeting agenda with an agenda maker to keep all participants on the same page. An agenda builder allows you to start from scratch, import a current agenda, or save time by using templates. You may also save previous agendas and use them as new templates to make future meeting planning easier and faster.
The software allows you to securely share your agenda with meeting participants as interactive PDFs. They can be sent via email or agenda landing pages, with private annotations included. You may also specify how much time is allocated to each agenda item to keep the meeting on schedule. You may also collaborate on agendas and meeting minutes, with changes synced across all connected devices.
Meeting minutes
You may record concise meeting minutes in a board portal software to capture crucial ideas, tasks, and decisions without having to switch between several applications. The board management software provides all needed features, which automate the whole procedure and make it easy to create meeting minutes.
The platform creates meeting minutes and distributes the report to the board of directors after the board meeting. Corporate secretaries responsible for meeting minutes can share reports directly from the minutes generator, so there's no need to switch to email.
Besides other after-meeting actions, admins should also focus on document storage and upcoming events. After meeting minutes can be all stored together with other important meeting materials.
These can be accessed at any time, whenever board members need to catch up on something they've missed or go over what's been discussed already to prepare for the future meetings
Board reporting features
You can track attendance and generate detailed vote reports using the reporting functionality. Administrators can also export all reports to spreadsheets easily, which is useful when you need information from previous meetings.
Virtual voting and processing results
Polls and voting functionality increase board engagement and make the decision-making process more efficient. The creation of a ballot for virtual voting is simple and quick, and it comes with additional security permissions. There are also checkboxes, radio buttons, and paragraph areas to choose from when creating a ballot.
Polls which are anonymous can also be created in the board portal. The reporting options are flexible and extensive, allowing administrators to see resolutions by count, member, or percentage. The polls can also be arranged so that board directors are prepared when it comes time to vote.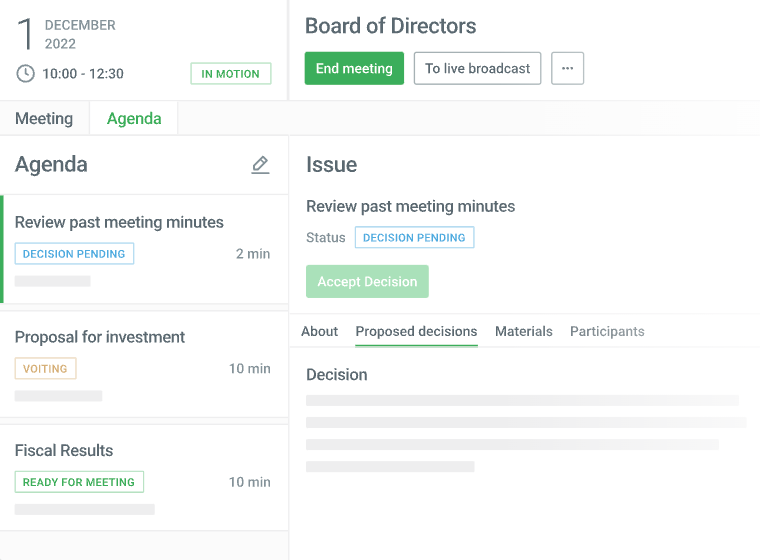 Collaboration features of the board portal software
Collaboration, especially remote, can be quite challenging without the help of the right board portal. The modern board technology facilitates secure digital communication, encourages better corporate governance, and promotes collaboration.
Moreover, there is a possibility to run paperless in-person meetings that are ensured by a board portal. Here are the key collaboration tools the board meeting software can offer.
Communication features
Advanced communication tools, such as direct or group messaging and real-time conversations, are available through the board portal software. You can easily discover board members and check their profiles and contact information thanks to an easy-to-use interface.
Board portal allows board of directors to have both real-time and asynchronous communication through groups, personal messaging, engagement on documents, etc. You can also attach documents or agenda features and discuss them with the colleagues before your next meeting.
To become more involved in the project, you can establish an agenda, use a paper with all governance requirements, and organize personal meetings to discuss essential aspects with other directors. Moreover, board discussions with the highest priority can be tracked and marked.
Members directory
Users can find member contact information, profiles, and committee memberships in the Members Directory. It's useful, especially when arranging meetings, because you can find all the information you need on board members in one place. You may also submit images to help you remember who was at the meeting so you can have a better future interaction.
Task management
The goal tracking board makes it simple to track your organization's progress. Through dashboards you see all the progress of your organization's board projects. Admins can use multiple tools for task management during the board meeting preparation stage and create deadlines to keep members informed and interested in working towards completing their assignments.
A goal progress tracker allows you to see what needs to be improved or which tasks should be added in order to get better results. To ensure that tasks are done on time, you can also send out task reminders.
Video integration
All of the necessary tools for running board meeting by video conferencing efficiently are included in board management software. You can utilize integrated video conferencing in this software instead of a separate video conferencing app. Zoom, Skype, Google Meet, and other comparable apps can be integrated with the board management software.
Multiple board's single sign-on
It's time-consuming and irritating to put in sign-on details over and over again. That's why board portal software offers single sign-on for multiple boards, so if c-suite executives serve on several boards they can easily switch between them.
News and announcements
You may read the latest company news in the news and announcements section. Here you may also provide a member welcome message as well as additional instructions on governance responsibilities. Prior to upcoming meetings, you can also check monthly newsletters, press releases, and other material on the dashboard.
Offline mode
​​Agendas and meeting notes can be archived and retrieved as needed. You can also download critical files and view them offline from your preferred connected device.
Some board portals allow you to securely view current meeting agendas, board books, calendars, and library papers in an app on your phone or through a browser, even when you are not connected to the internet.
When you're offline, you can still make annotations that will be synced across all of your connected devices whenever you get access to the internet.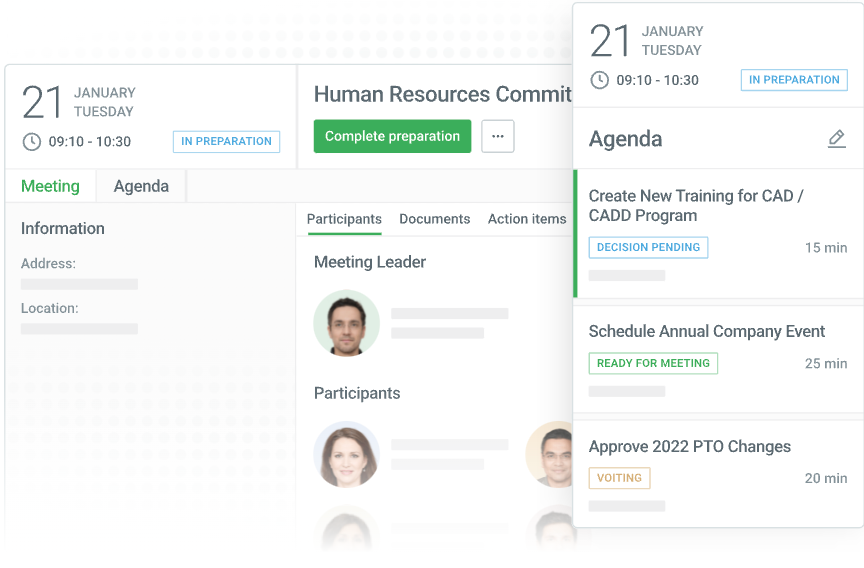 Document management features of board portals
Besides collaboration features, there are also other tools that are important for effective work of board directors as well as individual committees. Electronic board document management offers many advantages that provide long-term benefits to the organization.
Here are the main document management features:
E-signatures
The legal signing of the documents are much more simple with secure e-signatures. You don't need to have any physical signatures, as instead you upload the file, request a signature from a certain board member, and then just check the status of your document.
Files requested for e-signature can be only accessible by those who work with them. Company secretaries can even enable authentication before e-signature, which adds another layer of security.
Document center
In board portals, there is a document center, where you have all your files. In the document center you can easily find the needed files, edit them, add comments, and annotate them. New files can be uploaded in bulk.
For better navigation, you can create a specific document structure, which will be easy to follow for the corporate secretary and other team members. You can also organize files by tags.
With customizable dashboards, you can view all files and see whether there are any changes. There you can also see private or shared annotations. In the portal's library, every board member has access to the board documents, including policies and procedures, mission and vision statements, board book, and other materials.
Document templates
Besides many advanced document management board portal features, there is also a huge library of templates. You can use it for building agendas, writing meeting minutes, summarizing board resolutions, and much more.
Depending on your needs you can easily find the needed template, which saves a lot of time during the preparation before important meetings. You get both, free and paid templates you can use for a better and faster documentation process.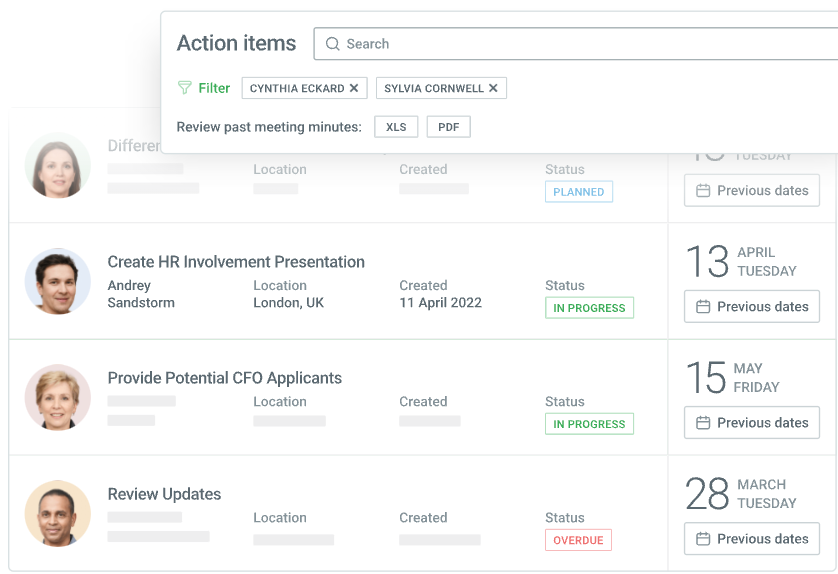 Board portals security features
Nowadays, reliable board portal providers use the best security practices and comply with the highest security standards to ensure information security. They want to provide a secure environment for collaboration and file sharing.
When choosing a board portal you need to make sure that the provider offers the top security functionality, including these must-have features.
Access controls
Within a secure board management platform, you should have full control over your sensitive data and the user's ability to print, download, and annotate documents. For secure data access and communication, admins can set various levels of granular permissions for agenda items, document folders, polls, and other board documents to ensure only authorized users gain access to the files.
Different access levels
You can grant or restrict access to specific groups or users in the board portal. Admins can control who has access to which documents by assigning roles. Users' access rights can easily be modified to allow them to only view documents rather than download them.
Multi-factor authentication
For registered devices, multi-factor authentication is available. Two-factor authentication often requires entering a password together with a one-time code provided to the user's phone or email.
Multiple methods of the data encryption
The encryption keys and key vaults of the software are kept separate from the encrypted data. The AES-256 Network assures that all papers are encrypted at all times.
For improved board governance and risk management, the secure board portal provider should offer superior security functionality. Because your company's sensitive information in board books will be stored in the board portal, data security should be a key focus for the board portal provider.
You must make sure that you are using the right board portal, which provides a user-friendly environment for secure communication and cooperation.