What is a virtual board meeting?
A virtual board meeting convenes using a software solution that allows directors to organize and attend remote board meetings. Unlike other video conferencing apps, these platforms are specifically created and designed for business settings.
Board meeting software is an advanced application offering numerous capabilities for in-app communication, document storage, and basic project management. Here's what you can do in the board meeting virtual workspace at different stages.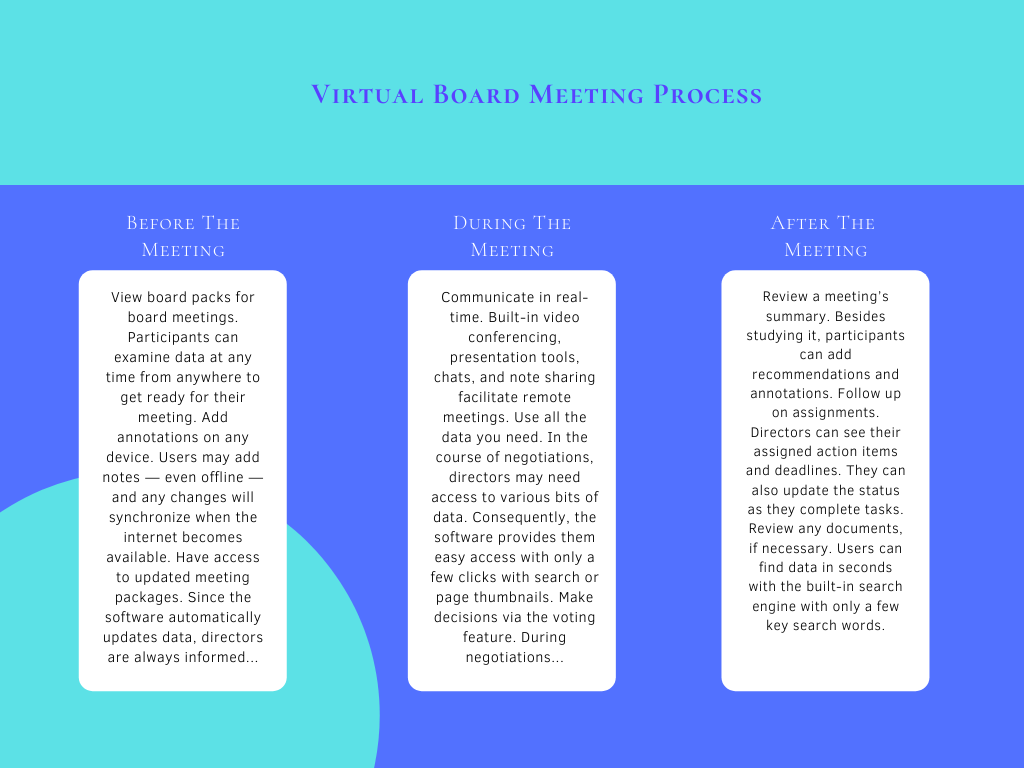 Before the meeting:
View board packs for board meetings. Participants can examine data at any time from anywhere to get ready for their meeting.
Add annotations on any device. Users may add notes — even offline — and any changes will synchronize when the internet becomes available.
Have access to updated meeting packages. Since the software automatically updates data, directors are always informed.
Sign and approve documents online. In addition to the e-signature feature, providers offer an additional level of security — identity authentication before signing.
During the meeting:
Communicate in real-time. Built-in video conferencing, presentation tools, chats, and note sharing facilitate remote meetings.
Use all the data you need. In the course of negotiations, directors may need access to various bits of data. Consequently, the software provides them easy access with only a few clicks with search or page thumbnails.
Make decisions via the voting feature. During negotiations, directors can vote on a solution immediately.
After the meeting:
Review a meeting's summary. Besides studying it, participants can add recommendations and annotations.
Follow up on assignments. Directors can see their assigned action items and deadlines. They can also update the status as they complete tasks.
Review any documents, if necessary. Users can find data in seconds with the built-in search engine with only a few key search words.
All of these features are useful for businesses in various industries.
For public organizations, it is vital to protect confidential information and its accuracy. As the software providers apply innovative encryption and data center security measures, public enterprises get a high-quality platform for digital meetings.
For non-profit organizations, it can be troublesome to deal with a large number of documents. In addition to a reliable data center, the program offers secure file sharing, electronic signatures, activity tracking, and reporting. The latter also provides statistics and insights into board engagement.
The primary task for private organizations is to involve all participants in the work and manage their actions. Online board meetings feature a voting option for collaborative decision-making and a task manager for overseeing workflows.
What problems can virtual board meetings solve?
The online board meeting has become a necessary measure due to the pandemic. However, not all organizations may decide to return to in-person meetings afterward. Perhaps this is because the software helped to solve some of the following painful problems:
Cooperation with restrictions. The program freed directors from the boundaries of time and place. Now they can fully collaborate anytime and from anywhere with only an internet connection.
Data security issue. Paper documents are readily available to third parties. In practice, the slightest mistake when sharing and storing may result in a data leak. Virtual board meeting software applies 256-bit encryption, user permissions, and authenticated e-signatures. Providers also guarantee compliance with security policies.
Poor and incomplete agenda. Poor agenda structure gives rise to inadequately prepared participants, deviations from course, and other problems. The software makes the agenda creation simple and eliminates human error. Ready-made templates help sketch out a good plan and minimize the time spent preparing it. The agendas are available for viewing and editing by all members.
Lack of transparency. Teams can develop interpersonal difficulties due to this problem. Namely, some directors do not always take each other's word for it, while others flat out lie. Keeping track of board activities using virtual boardroom software is easier. That is because administrators can view  reports regarding  the number of views, file sharing, downloads, and changes made. Besides, participants are less likely to abuse data when they know they are being monitored.
Tedious preparation for a meeting. Usually, the process involves studying a lot of materials before meetings. Participants had to lug heavy binders with them and set aside time to go over the information. Now, directors do not need heaps of paperwork because a virtual board solution provides easy access to data around the clock. Moreover, colleagues chat questions and answers back and forth in real-time. Doing so eliminates the time normally spent discussing these matters  at the start of a meeting.
Lack of flexibility. Virtual meetings for board of directors do not always take place as scheduled. Appointments may be inconvenient for other participants due to their busy schedules. Since it takes less time and effort to hold a board meeting online rather than an in-person conference, it provides board members more flexibility.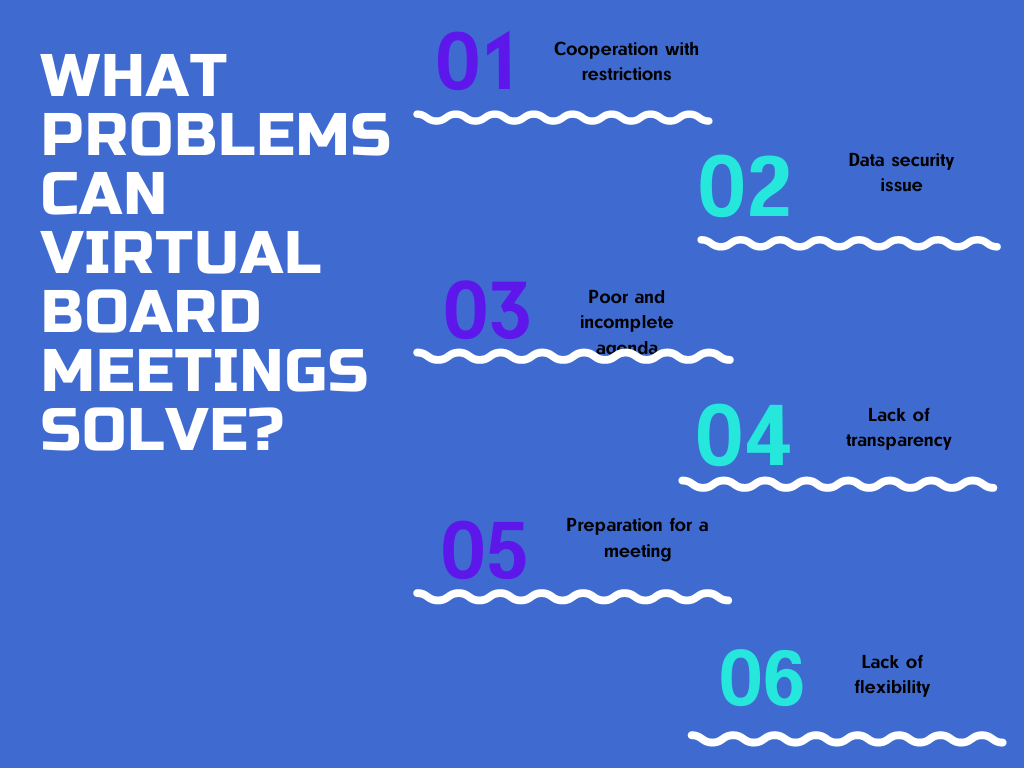 Benefits of online meetings
Some users consider convenience to be one of the main benefits of remote meetings, but there are other equally important advantages.
Board pack management has never been easier. As you know, the size of the board pack depends on the meeting's agenda. That is, it may be several pages long or may be inserted into a cumbersome binder. Online meeting software benefits every user with digital board packs. They are available on any device, and therefore always with you. Consequently, meeting prep time is significantly reduced.
Data protection is no longer a headache for boards. By integrating security features into portals, providers reduce the chance that their customers' data will be hacked. Firstly, teams do not need to print documents. Therefore, online data is more secure if it's only viewable by a limited number of people. Second, strict security measures help to prevent illegal actions — even by directors. Indeed, in the event of misconduct, activity tracking and reporting options make it easier to identify the offender. Finally, the security benefits of virtual meetings do not go away with the theft or loss of a device. In this case, users can apply the remote wipe feature and protect themselves from the illegal use of data.
Real-time updates keep everyone in the loop. Digital board books keep users updated. As soon as someone makes changes or adds comments or notes, the revisions are viewable immediately by other participants. As a result, everyone can adapt quickly to the circumstances. Keeping all participants in the loop in real-time is one of the most convenient virtual meeting benefits.
Directors are more active through remote meetings. Participants are more willing to hold and participate in remote meetings. Not having to travel is certainly an advantage for directors residing out of the area. Among the benefits of virtual meeting, users especially appreciate working with colleagues from anywhere and having all the data at hand.
Going online is a green business decision. U.S. companies alone spend over $120 billion on printed documents annually. Online meeting management software benefits save money — and trees. The cons of virtual meetings include a lack of face-to-face interaction and technical problems such as a poor internet connection.
Tips for conducting a virtual board meeting
Besides the functionality and benefits of the software, potential users need to know how to hold a board meeting.
First, virtual board meeting companies act legally only if their state laws and internal bylaws allow the online format and do not contradict the virtual meeting policy template. Therefore, directors must ensure that it's not illegal to hold remote meetings. If local laws permit holding a virtual meeting, proceed according to the following plan:
Set the most appropriate meeting time. This point requires special attention if the participants are from different time zones. If it is impossible to organize one meeting while accommodating all members, you may have to break it up into two sessions.
Develop a strong agenda. Create a clear agenda and make sure this and other board meeting preparation information is available across all devices. If you want to engage participants, apply virtual board meetings best practices for agenda development:
Involve all team members to bring up current team topics. Thus, the document will be complete and informative.
Stay on schedule. Stick to a timeline to ensure that the meeting is organized and inline with the plan.
Make sure each member has an agenda well in advance. It guarantees better preparation for the meeting and sets the participants on the same wavelength.
Use video conferencing for an interactive meeting. Check your hardware and Wi-Fi connection beforehand. Also, remember to adhere to board meeting etiquette: turn off your microphone when not speaking, close irrelevant tabs, stage the background, and wear proper attire.
Create accurate meeting minutes. The official record should contain the meeting's agenda overview and key details. The virtual meeting minutes template simplifies the task of creating a document, including all the significant components. Soon after the meeting, all attendees should receive their virtual meeting minutes sample.
Here are 5 ways to conduct your virtual board meetings like the pros:
Perform technical runs to avoid any disruption during the meeting.
Make sure everyone is knowledgeable about the topic before the meeting. Use the boardroom software to prepare board packs and share them.
Focus on priorities. Choose to discuss two or three topics so that the meeting stays focused and interesting.
Take breaks. Include rest time right on your agenda if you are planning a long meeting. Dividing it into thirty-minute segments can help.
Let each of the participants express themselves. It is good to use polling tools for this. This way, teams can take into account everyone's opinion on a particular issue.

Out of all of the key participants in a meeting, these tips most benefit the speakers who discuss issues and the secretary responsible for keeping records.
Conclusion
We hope this guide on virtual board meeting software provides you with valuable insights and clearly shows that virtual board meetings are appropriate nowadays. If you adhere to all the recommendations above, your team will become a productive and well-coordinated virtual board regardless of the circumstances.