Top 20 Board Management Software Providers
Updated: December, 2023
Selection Guide
Answer the questions below and select the most suitable virtual boardroom
How many users will be in a virtual boardroom?
Preferable deployment option
Select the main group of board software users
What features are the most important for you?
Data Processing
Comparing your requirements with all propositions...
What is a board portal?
A board portal is software for board meeting management that consists of a platform on which corporate members of the board and governance executives interact. This virtual boardroom serves directors of different departments all over the world and facilitates secure data handling. Through communication, companies can save time and ensure proper governance of board gatherings.
The most visible kind of interaction that happens on board portals are board meetings, but the best board portals include board of directors portal tools for carrying out many related but less visible activities that happen before and after meetings.
Among many others, these activities include:
creating board packs
commenting on documents
storing meeting minutes.
Hosts of board meetings are well aware that if they prepare the data before the board meeting starts, they will be able to optimize the decision-making process of the directors.
But what do the customers of this solution get in return for their investment?
The online board portal is used not only by directors themselves but also by administrators who are in charge of board management activities to ensure proper governance. They are the people who can use the solution effectively, and in turn, adjust the technology to the needs of the board of directors. Below are some of the duties they are tasked with.
Different Types of Board Portals Board Members Can Use
Virtual boardroom comes in three different systems: cloud-based board portal, which is web-based and subscription-based; in-house software, custom-made for a specific organization; and off-the-shelf board portal.
1. Cloud-based board portals allow you to organize a whole meeting from an app or browser tab. This is a great convenience because it doesn't require people to be connected to a particular network, or spend time configuring their PCs according to some new directive.
2. In-house software solutions are a bit more complicated and are usually custom-made for organizations, which means that they are much more expensive than a subscription-based model. They also need to be running smoothly on all of the hardware that is present in the company, and is a help and not a hindrance to the development of the company. The distribution of this application is much more difficult. Companies who go for this solution have a big budget dedicated to that kind of help, meaning the cost of this board portal is probably the highest.
3. Off-the-shelf board portals aren't developed with customization in mind. They are a one-time purchase, and there is a lack of support. This is more of a plug-and-play solution, that isn't developed with a future addition in mind, which makes it a product that might stop being supported at some point.
How to choose board management software
Even though organizations have different requirements for what they regard to be the best board management software, there are core elements to consider when choosing a platform. It, first of all, concerns the security level, desired board management tools, service and support quality, and the provider's reputation.
To make a choice easier for leadership teams, companies offer a free demo or free trial of their services. It helps with finding the most suitable software for corporate board management.
Companies should weigh their options thoroughly as the wrong decision may be costly and squander time. Moreover, it'll impact the overall efficiency of virtual board meetings.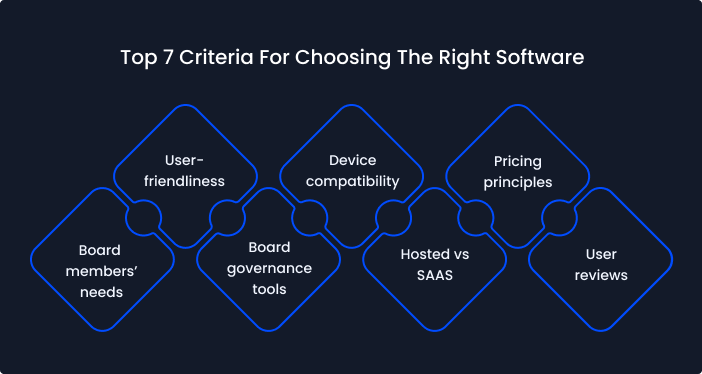 Top 7 criteria for choosing the right software
To avoid negative outcomes, let's learn the key criteria to bear in mind when evaluating software for corporate governance.
1. Board members' needs
Start with answering the question, "What do I expect from my board management software." Is it just for online board meetings? Or are file sharing and storing a must, too? How often and for how long will the services be used? Responses can significantly narrow a wide range of options.
2. Hosted vs. cloud-based board software
Companies have two options for hosting board management software: cloud-based and on-premise. A cloud-based solution is hosted on third-party servers. Organizations choose cloud-based options for cost-effectiveness and easier maintenance. On-premise software requires its own infrastructure. Therefore, it better suits companies that want a customized, extra-secure solution.
3. User-friendliness
Complex and unintuitive software requires additional resources for training employees and board member directory. However, when board management software has an intuitive and user-friendly interface, new users can onboard quickly and easily.
4. Pricing
Providers offer a wide range of tariff plans depending on the functionality clients choose. The starting price can be as low as $10 per user per month for basic features. Alternatively, pricing can exceed $2,000+ per year for advanced tools. Furthermore, companies often have customized pricing so that customers get a tailored solution and pay only for what they use.
5. Device compatibility
See if a board management tool you want to adopt functions properly on all devices and supports multiple operating systems, like Windows, Mac, Linux, iOS, and Android. Additionally, decide if you need a board meeting app for more efficient collaboration and add it to the checklist when choosing a vendor.
6. Board governance tools
See if the provider offers all the tools board members require for efficient collaboration. Among them may be polls, votes, surveys, secure file sharing, tools for taking board meeting minutes, and agenda builders.
7. User reviews
Learn what other users think about certain board management software providers. See how high they rate their services. Learn about the pros and cons, recommendations, and software advice. More information helps to make the right decision.
Vital features of board management software
There are many options on the market when it comes to board governance software, however, most of the board portals share those common features.
In and out of a meeting. It includes private and group chats, the contents of which the system protects like other data. Here is a detailed guide on virtual board meetings and top tips on how to ensure the highest efficiency of virtual meetings.
The boardroom offers all the necessary tools for assigning and tracking tasks. Thus, administrators and other users can see outstanding and completed tasks, deadlines, and overall progress.
Let's have a look at the most sought-after functions that board management software companies usually focus on and see which organizations might benefit most from which features.
Key functionality
What's included
Best for
Document management

Creating folders
Document sharing
Setting access permissions for each team member
Drag-n-drop function
Bulk files upload
Search by keywords

Startups looking for investors
Financial organizations or legal departments that have to deal with a lot of paperwork.

Video-conferencing

Scheduling meetings
Creating meeting minutes
Attaching relevant documents to any meeting
Archiving past meetings for future reference

Board of directors that want effective team collaboration and productive committee meetings.

Cycle meeting management

Scheduling
Agenda creation
Recording minute
Consensus tracking

Small or medium-sized businesses that have regular fundraising meetings with investors
Nonprofit organizations that have annual planning or quarterly checkup meetings.

Task management

Task assignment
Commenting on tasks
Sending automatic reminders
Creating to-do lists
Due-date settings
Voting

Any-sized companies want to save time on assigning and controlling work.
To sum it up:
Large enterprises that want to make the entire workflow seamless and efficient should look for a feature-rich board portal with a variety of tools for meetings, tasks, and document management.
SMEs or nonprofit organizations should focus on providers whose top functionality aligns with their primary needs.
For productive collaboration, there are voting and polling tools. Thus, one of the board members can organize voting at any time, while others can express their view with one click. Therefore, the board of directors should not wait for scheduled meetings to make an important decision and take into account all opinions.
If you find board management software that meets your company's requirements, you can significantly improve every aspect of the board's operations and every director's experience. But, most importantly, it will help support your company's core mission by allowing you to devote more time to it.
The 3 top benefits of using board management software
Board members admit that meeting modern governance challenges and overcoming them has become much easier with board meeting software. They emphasize numerous advantages they get from the solution.
Reduced board management costs
Using board software is much cheaper than having an in-person board meeting. This is because boards don't have to spend money on:
Stationery. Preparing, editing, and printing board meeting materials use a lot of paper. It also requires office equipment that has to be maintained, but board portal software replaces all that.
Delivery. Sending confidential files by regular mail is often risky, takes time, and requires extra expenses for security measures. While a board management portal with a role-based access feature lets board members share documents instantly, anytime, and anywhere with no additional fees.
Storage. Storing board documents securely, having immediate access to them, and not paying extra for physical space is possible with a board management system.
Higher efficiency
Collaboration tools offered by board management software facilitate faster and more efficient communication between board directors. The most helpful features are:
Meeting scheduling. See upcoming and past events, create agendas, attach files, and control the entire meeting process.
Discussions. Post proposals and announcements, vote, create surveys, comment, and discuss ideas in threads.
Task management. Make to-do lists, set deadlines, assign tasks, receive reminders, and reorder priorities.
Document management. Create folders, drag-n-drop files, set access permissions, and share documents securely.
Increased sustainability
Environmentally conscious companies also turn to board management software because this is an eco-friendly solution. Here's why:
Less emission generation. Remote meetings reduce fuel consumption and car emissions. They also lower the demand for lighting, powering, heating, and cooling of office buildings.
Paper consumption reduction. Paperless board meetings result in millions of saved trees and decreased air, water, and land pollution caused by paper manufacturing.
Reduced number of servers. A centralized solution, like secure board software, is always better in terms of sustainability and resource allocation. Companies developing such software know how to upgrade and maintain energy-saving equipment.
Board portal comparison
As industries and company sizes vary significantly, each of them has different requirements and compliance concerns when choosing a board intelligence platform.
That's why it's important to take into account what a particular organization needs and align those needs with the key features of a particular board software vendor.
Provider
Best for
Industries
Top tools
1. iDeals Board
Best for:
Saving time, improving workflows, and optimizing the entire process of board meeting management, document management, and storage of board materials
Industries:
Financial companies
Nonprofits
Healthcare
Commercial organizations
Top tools:
Task manager
Agenda builder
Documents center
2. Boardvantage

Best for:
Measuring the board meeting's effectiveness and overall efficiency according to your preset governance objectives
Industries:
Financial institutions
Banks
Commercial companies
3. Diligent

Best for:
Board meetings, board documents management, and protection of confidential documents
Industries:
Commercial companies
Financial institutions
Healthcare
4. Boardeffect

Best for:
Board management of the entire meeting cycle
Industries:
Nonprofits
Higher education
5. Boardable

Best for:
Meeting requirements of the nonprofit boards of directors
Industries:
Nonprofits
Commercial companies
Top tools:
Meeting management
Video integration
6. BoardPaq

Best for:
Cost-effective board management
Industries:
Banks
Governments
Healthcare
Nonprofits
7. OnBoard

Best for:
Simplifying the most complex tasks regarding the board management, and making the collaboration of board directors easier
Industries:
Nonprofits
Banks
Healthcare
Governments
Top tools:
D&O questionnaires
Agenda builder
Minutes builder
Pros and cons of board management software
Board management platforms hold numerous advantages over traditional in-person meetings and paper documentation. They reduce expenses, bring more efficiency, and help achieve goals faster.
However, companies can only find the best board management software if providers take an individual approach to each client and create customized solutions. Thus, when looking for a virtual platform for board management, see if you're offered a tailored package of tools and features.
Once you have it, opportunities for better tasks and board member management increase, the team gets more capacity to focus on core work activities, and business aims become easier to achieve.
This is possible because of the multiple board software's capabilities. Let's see how users benefit.
Collaborative workflow
Collaboration tools appear to be extremely effective for streamlining work processes and facilitating decision-making. This is because the board and team members can:
Work together on a common project remotely and in real-time
Communicate securely, brainstorm ideas, and make decisions on further actions
Delegate tasks automatically
Organize work effectively with the help of task management tools
Gain offline access to the organization's data from any device
Scheduling
Board portal users admit that being able to schedule meetings automatically makes work processes run more smoothly. Scheduling tools help businesses:
Keep staff updated. See schedules of individuals and groups, notify them when new events are created, vote for the most suitable meeting time, manage meetings, and track attendance.
Reduce availability conflicts. Avoid double booking, overlapping events, or booking an unavailable time slot with calendar management tools.
Communicate more effectively. Discuss events on their own self-contained pages, create meeting reports, and share them with others instantly.
Routine meetings
Board portals for nonprofits and for-profit companies provide users with tools to conduct routine or cycle meetings. These are scheduled group sessions, usually informal, that occur at intervals. Typically, these are monthly progress reports, project reviews, one-on-ones, annual reviews, or updates.
Routine meeting tools offered by board management software vendors provide the following benefits:
Increased engagement and collaboration
Increased accountability
More opportunities for personal growth
Tools for different organizations
Typically, each board management software solution has a set of tools that different organizations can use. For example:
Legal entity management tools. Legal, governance, treasury, tax, finance, and compliance departments use them for corporate records and setting up clear organizational structures.
E-signatures. Board members, investors, and managers can sign documents legally and securely to facilitate work processes.
Surveys. Carry out surveys and polls and evaluate them directly in board portal software.
Voting. Vote on business issues and make decisions quicker and easier.
Best board portals and their specifications
The vast majority of board meeting software feature similar services and functions but each one of them is still unique, with its specifications and peculiarities. Here we'll take a look at the top trusted and reliable board software providers.
Board portals comparison — what to evaluate first?
When looking for board management software, take into account the aspects described below.
Board meeting management improvement
The tools to look for in board meeting software for managing upcoming meetings are:
Integration with modern digital calendars
Board meeting agenda software
Meeting minutes creation and sharing
Meeting attendance recording
Notifications
Past events archive
Ease of board document management
Board management software should be easy for all users to use, including the less tech-savvy. Check if the provider offers:
Intuitive interface
User experience-focused design
Training and support for fast onboarding
Simple navigation
Readable content
Fast load times
Impact on board collaboration
For successful board-member collaboration, the following is necessary:
Integration with other team collaboration software, like Zoom or Skype
Reporting tools
Private and group chats
File-sharing capabilities
Cloud-based file storage
Customer support
Check out if the client support quality offered by the board management software provider meets your expectations. The following characteristics will certainly be advantageous:
24/7/365 support availability
Multilingual support specialists
Personalized and competent assistance
Quick response time
Multichannel support by email, phone, or chat
Board portal security
Secure communication and collaboration are one of the board members' top requirements when they're choosing a board management system.
First of all, make sure that the vendor has certifications like FINRA, SOC2, ISO 27081/ISO 27001, and SSAE 16.
Secondly, pay attention to security features:
Two-factor authentication. It keeps board management software protected from unauthorized users and hackers.
Data encryption. It enables users to store and share encrypted confidential documents. In this case, malware or hackers can't read an organization's sensitive data.
Audit trail. This is a step-by-step record by which any data can be traced to its source.
Access control. This feature allows admins to regulate who can view, edit, share, or download documents stored in the board portal.
Free trial availability
Finally, check out if the board management software provider offers a testing period for their product. It's important, as it enables potential customers to:
See if the service meets all of their needs and requirements
Check if a vendor can be trusted
Discover possible drawbacks
Conclusion
Do you feel ready to check board portal reviews and find your favorite? Ultimately, looking for software advice should take into account your specific needs and preferences. The tool you find should fit your company's budget and have the board features to accommodate your business needs.
Our board management software reviews will help you to find the most suitable tool. Make sure to browse each review carefully. That's the only way to discover a long-term solution that will meet or even exceed your expectations.
Take your time and do your homework — your board meetings and management will thank you for that.