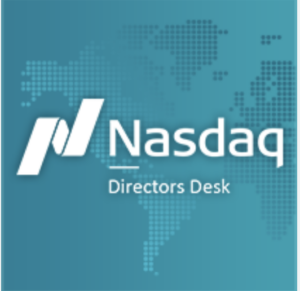 Directors Desk by Nasdaq
Contacts
Website: https://www.nasdaq.com/
About
Directors Desk is board software developed in 2002 by Directors Desk, an American corporate governance software developer. In 2007, Nasdaq, a multinational stock company, acquired Directors Desk and the board portal in question.
Today, Directors Desk helps corporate executives improve board communications and manage their boards on one site. It allows board members to exchange sensitive information, approve documents, collaborate, and arrange meetings.
Given the flexible Directors Desk app features, it will suit public and private boardrooms alike, including but not limited to healthcare facilities, small businesses, large vendors, law firms, universities, banks, and many others.
Features
Product capabilities of Nasdaq Directors Desk
Directors Desk offers extensive capabilities to speed up board decisions.
Better meetings
Board directors and corporate secretaries can prepare for meetings faster thanks to the following Directors Desk features:
Meeting calendar. Schedule business meetings from an illustrative calendar and adjust meeting details — attendees, date, and summary materials. Admins can easily assign attendees and attach agendas.
Interactive SharePoint agenda builder. Create meeting agendas by adding new sections, attaching files, and setting timestamps in the agenda builder. You can re-order Directors Desk agenda items using drag-n-drop, and the system automatically recalculates time frames.
Meeting minutes. Create meeting minutes in PDF and attach them to agendas. Distribute meeting minutes across boardroom members to facilitate post-meeting decision making.
Audit trail. Track meeting attendance by group and individual and export generated reports to Excel. You can also track attendance for people beyond the Directors Desk workspace by creating "virtual attendees."
As per the official Nasdaq statistics, board members save up to 32 hours per board meeting by switching to Directors Desk.
Smart document sharing
Directors Desk features an online document repository where you can upload, download, and share board books and other materials. It has the following capabilities:
Drag-n-drop uploader. Upload files in bulk using drag-n-drop in the documents section of your dashboard. Store documents in a customizable content structure.
Document viewer. Open Microsoft Suite, PDF, TXT, RTF, and all common image formats in the boardroom. The system converts listed files into web-ready PDFs.
Document editor. Highlight, underline, and strike text easily. You can also make notes and enable free-hand drawing within documents if needed.
Document search. You can search business files by author, name, description, and keywords. Since the system stores confidential files in an encrypted format, a page search isn't available.
Rich collaboration tools
Boardrooms centralize and improve board communications due to the following Directors Desk communication tools:
Emails. Send individual or bulk emails with attachments. Format your emails using bullets, numbered lists, text highlights, and font options — and save them as drafts before sending.
Discussions. Create and announce discussions and invite individual participants or groups of users. You can set visibility settings for each thread.
Polls. You can create customizable yes-or-no polls, conduct votes, and send notifications to involved users. Directors can review polls in the vote section and complete them offline — the system synchronizes answers when the device appears online.
Surveys. Users can create and participate in configurable surveys and receive analytics on completed questionnaires. Adjust survey options — multiple choice, rating scale, open-ended, and dropdown questions are available.
Announcements. Notify attendees about upcoming meetings via a simple announcement menu. Include recipients, subject lines, messages, document links, and delivery options (email or wireless).
Top-notch security
Data privacy has always been of paramount importance for leadership teams, and the Nasdaq Directors Desk app fulfills their needs with the following security features:
Access permissions. Restrict registered users from private materials and set content access rights for your committees. Allow or revoke document rights — view, edit, print, or download.
Agenda locking. You can lock agenda items so that nobody sees them except authorized collaborators. You can also select who can publish documents to specific agenda sections.
Watermarks. You can apply configurable watermarks to documents and email attachments. Choose watermarking options, including but not limited to content, color, and transparency.
Industry-leading digital security features. Protect your communications and business files using password and login settings, two-factor authentication, and data encryption at rest and in transit. You can delete confidential board materials from lost or stolen devices remotely.
Main advantages
As per GetApp, Capterra, and G2 reviews, Nasdaq Directors Desk customers opt for the platform due to the following features:
Mobile access. Executives consider the Directors Desk iPad app the most valuable feature allowing them to gather without shuffling hefty paper packs.
Reliable customer support. Users appreciate 24/7 live rep support, training options, and access to documentation.
User-friendly apps. Executives say they love Directors Desk Microsoft and iPad applications due to their intuitive navigation, offline viewing, and real-time activity updates.
Reporting functionalities. Users find it convenient that the system generates color-coded reports on meetings, surveys, votes, discussions, documents, privacy details, etc.
Software integration. Directors Desk customers take board communications to the next level and improve overall user experience thanks to Outlook, Google Maps, and SharePoint integration.
Main disadvantages
Some users also suggest a few improvements regarding this platform:
Web app interface. While Directors Desk mobile apps are well-balanced regarding user experience and features, their web version seems outdated. Some customers spend too much time ensuring all meetings get scheduled.
Insufficient operating system compatibility. This board portal doesn't have an Android app. It would be excellent if it had one since Android devices comprise 44.66% of the global mobile market compared to 17.85% for iOS.
FAQ
What is Directors Desk?
Directors Desk is a board portal software designed to provide secure collaboration and communication for board members. It offers features such as document management, voting, and meeting scheduling.
Can Directors Desk integrate with other software?
Yes, Directors Desk can integrate with other software such as Microsoft Office and Diligent Boards.
How does Directors Desk ensure data security?
Directors Desk uses industry-standard encryption and access controls to ensure data security, and it undergoes regular security audits and testing.
TOP Alternatives
iDeals Board
View Profile
Boardvantage

View Profile