What is a board portal?
A board portal is software for board management. It consists of a platform on which corporate board members and governance executives interact among themselves.
The most visible kind of interaction that happens onboard portals are board meetings, but the best board portals include board management tools for carrying out many related but less visible activities that happen before and after meetings. Among many others, these activities include creating board packs, commenting on documents and storing meeting minutes.
Board portals are used not only by board members themselves but also by administrators who are in charge of board management activities.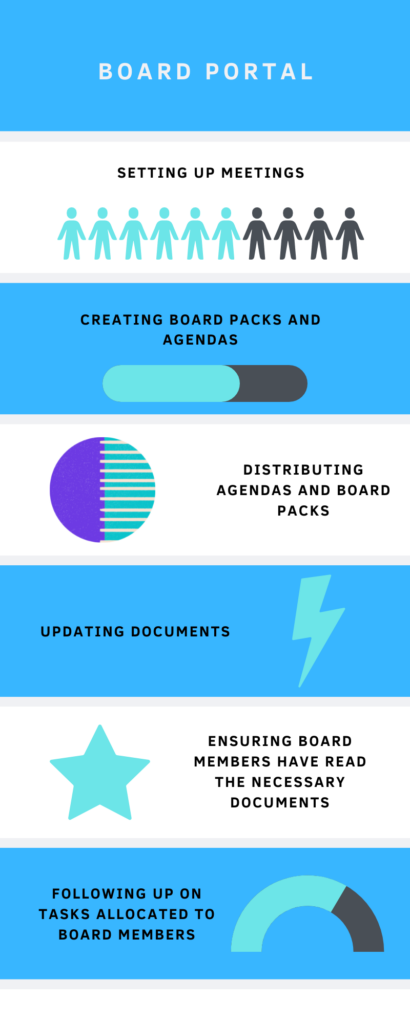 Setting up meetings
creating board packs and agendas
distributing agendas and board packs
updating documents
ensuring board members have read the necessary documents
following up on tasks alloted to board members








Board members use board portals for:
viewing, annotating and editing documents
following the agenda during meetings
signing documents
voting on proposals
alloting tasks
following up on tasks
Board portal software comes in three different systems: online board portal, which is web-based and subscription-based; in-house software, custom-made for a specific organization; and off-the-shelf board portal.
Board portal software comes in three different systems: online board portal, which is web-based and subscription-based; in-house software, custom-made for a specific organization; and off-the-shelf board portal.



What are the main features of a board management software?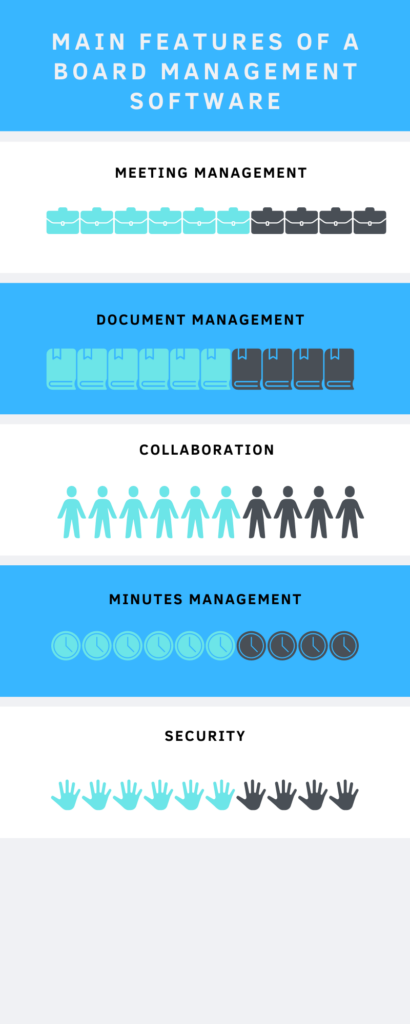 There are dozens of different board portal solutions in the market, and each one offers staple tools as well as specific ones. The following are the main categories and features which are present in nearly every board management portal:
Meeting management: these tools allow administrators to set up meetings, share calendars and track meeting attendance.
Document management: these features help users create and distribute meeting agendas and board packs, update agenda and board pack contents, record meeting minutes, store minutes and other meeting documents, and track task completion. Document management features can include granular permissions for document access and editing.
Collaboration: these tools help administrators know if board members have read the pertinent documents, and allows board members to comment privately or publicly on documents, contact other board members, vote on proposals and sign documents. Collaboration features include KPI dashboards, read confirmations, commenting tools, messaging etc.
Minutes management: these features allow users to create, distribute and store meeting minutes, and to search for information within minutes of past meetings.
Security: these features protect the content of the board portal against non-authorized access and use. Security features include: two-factor authentication, role-based permissions, document encryption, audit trails, remote purge etc.
What are the benefits of a board portal software?
Boards that use board portal software solutions save time and work which was previously spent in administrative tasks. This happens because:
documents are quicker to create and distribute when there's no need to print, bind and hand them out
resources are saved when administrators can create hundreds of thousands of pages on screens instead of on paper
storage is easier to organize, and takes up less room, when it's done in digital instead of physical media
finding documents and specific passages in them is quicker with software search features
document updates are quick and automatically reach all board members when administrators do them online instead of printing and handing out new material
security is greater because administrators can control what users have access to which data
communication between board members improves when they can easily share comments and messages on a centralized platform.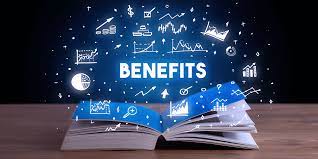 How to choose the best board management software for your company ?
As organization boards vary, so do their board management needs. However, there are a few principles to keep in mind when choosing board portal solutions, regardless of what industry you are in and what the size of your company is.
Security: it's crucial to know only the right people have access to confidential information, so make sure you choose a secure board portal.
Support: technical issues happen, and if they happen in the middle of a meeting, it's important to have them solved straight away, so check if the board portal provider includes high-quality technical support.
Features: if you need specific features, make sure the board portal you choose includes them all. Some providers offer in-built industry-specific features, or can add them to your portal on request. Sometimes, premium features come for additional fees.
User-friendliness: the more users you will have, the more important it is that your board portal is intuitive to use and requires minimum training, if any.
Pricing structure: some plans charge per number of users, others per period. Check if there are hidden fees. Some providers charge additional costs for training, for extra documents or extra storage space, or for services such as e-signature and data rooms. Make sure you know exactly what you are getting, and for how much.
A board portal cannot solve problems caused by faulty board management, but it can be an excellent toolbox to make good board management even better. A secure board management software ensures confidential information stays safe, and renders administrative processes, as well as interactions between board members, easier and quicker.